All The Things We Never Knew
All the Things We Never Knew is a boldly beautiful page-turner about loving and losing someone with mental illness. With unblinking honesty and profound compassion, Sheila Hamilton brings us vividly into her confusion, sorrow, and ultimate healing. I'll be recommending this absorbing memoir for years to come
Cheryl Strayed, Bestselling author of Wild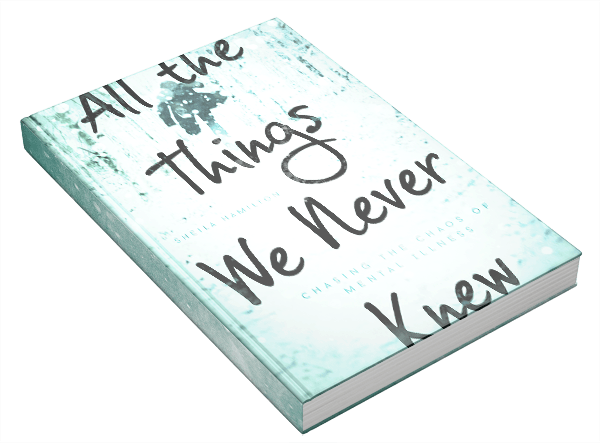 Even as a reporter, Sheila Hamilton missed the signs as her husband David's mental illness unfolded before her. By the time she had pieced together the puzzle, it was too late.
Her once brilliant, intense, and hilarious partner was dead within six weeks of a formal diagnosis of bipolar disorder, leaving his nine-year-old daughter and wife without so much as a note to explain his actions, a plan to help them recover from their profound grief, or a solution for the hundreds of thousands of dollars in debt that they would inherit from him.
"All the Things We Never Knew" takes readers from David and Sheila's romance through the last three months of their life together and into the year after his death. It details their unsettling descent from ordinary life into the world of mental illness, and examines the fragile line between reality and madness.
Now, a decade after David's death, Sheila and her daughter, Sophie, have learned the power of choosing life over retreat; let themselves love and trust again; and understand the importance of forgiveness. Their story will resonate with all those who have loved someone and lost them to mental illness.
Buy the Book
To buy the book from Powell's Books, click here. To buy the book from Amazon, click here. For the Kindle edition, click here. For the audio book, recorded by the author, click here.
Reviews
"A brave and honest memoir of mental illness and the many people it can affect."— Kirkus Reviews
---
"If you've ever asked the question 'Do I need help?' or 'Does my loved one need help?' then read this book. Merging her gut-wrenching personal story with all-pro journalistic acumen, Sheila Hamilton gives us the who-what-where-when-why of mental illness and what you can do to get the help you need. Most of all, this book gives us permission not to go through hardship alone, no matter what crises we face."
—Laura Munson, New York Times best-selling author of This Is Not The Story You Think It Is, and founder of Haven Writing Retreats
---
"Sheila Hamilton's All The Things We Never Knew is one of the most candid, heart-wrenching, and deeply moving accounts of the wake of destruction caused by the suicide of a loved one. Her book reminds us of those we've lost to suicide. The book casts the dark shadow that is depression, then rises from such darkness, reminding us to 'Look to the living, love them, and hold on.' Finally, it gives survivors tremendous resolve to continue in their quest for prevention."
—Kevin Hines, mental health speaker, activist, and author of Cracked, Not Broken: Surviving and Thriving After a Suicide Attempt
---
"Journalist Sheila Hamilton has written a bold and honest book that takes the stigma out of mental illness and explores the terrible and beautiful angles when a loved one suffers from bipolar disorder. Hamilton's reporter's eye and lover's heart give us a valuable perspective on how the grip of this insidious disease can destroy families and lives . . . Hamilton's story is not only a cautionary tale but another example of the resiliency within all of us, and our ability to make the choice to heal."
—Lee Woodruff, bestselling author of In an Instant and Perfectly Imperfect, and contributing reporter for CBS This Morning
---
"All the Things We Never Knew is so beautiful, so raw, and so powerful. It is, in a word, spectacular, and Sheila Hamilton is so generous and brave to share this story with the rest of the world. Anyone who has struggled with mental illness—their own, their family members', their friends' (which is to say, all of us)—will come away from this deeply humane book feeling less alone."
—Kelly Williams Brown, bestselling author of Adulting
---
"All the Things We Never Knew is an honest, compelling read that chronicles Sheila Hamilton's personal story of what it's like to live with and love a spouse with mental health challenges. Written well, accurately describing the depression and mania of what later becomes a bipolar diagnosis, she captures the struggle of piecing together biological, psychological, and environmental factors that ultimately lead to a hard but hopeful ending. It is one of those books you don't want to put down. As a radio personality, it also turns out she has a gift for writing as well. In between each chapter is information or a nugget of wisdom Sheila found helpful in her healing journey. Put this on your reading list today and continue the conversation!"
—Gina Firman Nikkel, President and CEO of the Foundation for Excellence in Mental Health Care
---
"All the Things We Never Knew is the rare memoir that's as harrowing as it is heartwarming, and Sheila Hamilton is the rarest of writers—a disciplined reporter with a masterful understanding of the workings of the human heart. This extraordinary story, about the mystery and scars of mental illness, is sobering and compelling and simply unputdownable."
—Karen Karbo, bestselling author of The Gospel According to Coco Chanel and How Georgia Became O'Keefe